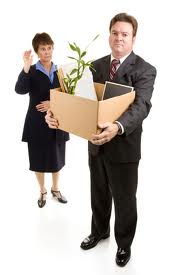 These days you can't turn on the news, open a newspaper or surf the internet without getting bombarded with headlines warning of impending doom for the economy. Now, don't get me wrong, as a country we're in a mess financially. Just the housing crisis alone is enough to make you want to stay in bed and pull the covers over your head. Unfortunately, that won't keep the power on or a roof over your head.
If you're fortunate enough to still be gainfully employed, count your blessings. For those of you (and I'm talking about myself here, too) that have been on the other side of the bosses desk when those dreaded words came.."Your position is being eliminated", there is life after a J-O-B.
Let me tell you briefly what happened to me. I was in the real estate industry for nearly 17 years as a New Home Sales Agent. Worked for a builder, had great insurance, paid my dues by studying the industry and working my way up through the ranks. It was pretty darned comfortable. Life was good during the boom a few years ago. We had people waiting on lists to get houses. Talk about having a captive audience.
Then as things started to cool off and all the crazy loans started to go bad, those of us on the front lines could see what was coming. Unfortunately some of the major mortgage companies and builders were too busy counting their profits to notice and refused to scale back. The result is what you see on the news today, foreclosures, businesses closing and a lot of hard-working people out of work. I was one of those people.
What's a person to do when the rug gets pulled out from under you in this goofy economy? There's several things actually, but short of doing anything illegal or immoral(I'm smiling as I write that), take a good hard look at your strengths, talents and passions and reinvent yourself.
What do I mean by that? You know you have things you're good at and enjoy doing that would translate very well into another line of work, possibly even your own business. The only limits are your imagination. And these days, the internet makes it possible to reach people you never would have met otherwise. It's a home based business persons dream come true.
Here are just a few ideas:
Are you good at administrative and organizational stuff? How about being a Virtual Assistant? A V.A. is someone who works from home, but who sets appointments, sends emails, and does all the tasks of an assistant who works in an office, but you do it from home (and save on gas and dry cleaning bills)
Are you an animal person? How about making a video (or writing an e-book) on how to train that stubborn puppy dog? THen, make it available online.
A coffee or tea lover? How about producing a video on making the perfect cup of tea and then include it with every purchase from the wonderful tea company you represent? All that can be done online.
Into Health and Nutrition? Start a blog on all the tips and tricks you've learned over the years. There are some wonderful network marketing companies in the Health and Nutrition field you could represent. Find a product you can really be passionate about. You can help folks stay healthy and build your own business in what's projected to be a $1 trillion industry.
Those are just a fraction of what can be done. Let your mind wander. Allow yourself to dream and before you know it, your perfect opportunity will present itself. You've heard the saying that when life gives you lemons, make lemonade? Your lemonade will be when you realize that the one security you have in these crazy times is you. There's an unlimited number of possibilities available to you when you do a little soul-searching and start to think "outside the box". Forgive the cliche, but it's true.
Don't let Wall Street, the evening news or your old boss have control over you or your finances anymore. That lay-off may have been a blessing in disguise when you use it as an opportunity to find your passion, live your dreams and earn a living that you never thought possible. Then, unless you want to, you'll never have to work a J-O-B again.
Have you or anyone you know had the proverbial job rug pulled out from under them? Leave a comment and let me know how you're doing and what you've done to overcome "pink slip shock".