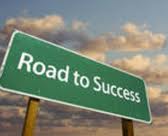 While it's no secret that going into business for yourself can be a challenge ( heck, it can be downright scary), but the number one speed bump on the road to success is one itty bitty word…sales.
For some folks, just the thought of having to sell something to someone makes them break out in a cold sweat like they have the latest strain of the flu.
Why is this? As someone who made the bulk of her living as a Real Estate Agent for 20 years, and making commission-only at that, the idea of helping a customer solve a problem with a product I represent makes me feel warm and fuzzy all over. Selling them what they need is actually serving them.
To withhold what I know will help them solve a pressing problem or make them feel better actually feels selfish…now.
There was a time however when I could completely relate to how my sales team and coaching clients feel.
Sales was scary. There were sales trainers teaching techniques that were in a word…manipulative. It felt unnatural to memorize 20 different closes (remember the Ben Franklin close?).
Today, sales is all about building relationships and to that I say, "Yipee!!"
For entrepreneurs that should be a breath of fresh air.
Most entrepreneurs are "people people" and creating and nurturing relationships is what we do best. Things change though when that "sales" words gets tacked to it.
It's time to stop all the weirdness and get comfortable with the idea of serving your customers by getting them involved with your product or service.
Want to feel comfortable with the sales process and smooth out the speedbump? Put the focus on serving your customer with what you have to offer and take the focus off feeling like you're doing something "to them". You'll succeed when it becomes about them and what they want. The result will show themselves in happy, repeat customers; a sense of pride and satifaction is your business and oh, a healthy bank account.
How do you feel about the selling process in your business? Are you satisfied with it or are there things you want to change? Leave a comment below and let's talk. Until then…Make it wondermous day

To your Sales Success,
Sonrisas(smiles),
Beth